When:
January 24, 2018 @ 12:00 pm – 1:30 pm
2018-01-24T12:00:00-10:00
2018-01-24T13:30:00-10:00
Where:
Alohilani Resort Waikiki Beach-3rd Floor
2490 Kalakaua Ave
Honolulu, HI 96815
USA

Cost:
$23.00, parking $5.00
Contact:
Linda Collard, Executive Director
Patricia Waiwood-How I cycled across the US one-handed
Tricia Waiwood Bio
Speech Title: A Purpose-driven Ride
Born with only one hand, Ohio native Tricia Waiwood still made it her mission to join the US military.  After being turned down by four branches and the JAG Corps, she resolved instead to be a "battle buddy" to veterans at home, since she couldn't be their "battle buddy" on the field.  Motivated by the "American spirit" exhibited most clearly by the US military, she has overcome her challenges to complete three cross-country cycling trips alone to raise money for wounded warriors, the inaugural trip crossing the country between California and New York.  Her most recent undertaking, in January '17, was a 12-lap ride around Oahu in 12 days, in honor of 12 Marines from Kaneohe Bay MCB who died in a training accident on 1/14/16.  The ultimate goal, yet unachieved fully, is to raise money for 12 service K9s for veterans with PTSD and name them after the 12 Marines.
When she's not pedaling, Tricia relished seizing opportunities to tell didactic stories about her cycling excursions (like being chased down the road by a coyote), as a backdrop for explaining why she believes so strongly in raising support for veterans, bearing in mind the words of a former combat Marine and friend: There's no such thing as an unwounded warrior.
One-handed Woman Cycling 1,200 Miles to Aid Veterans With PTSD
Raising $180,000 for 12 service dogs for veterans
July 12, 2016 12:55 pm 
Last Updated: July 12, 2016 12:55 pm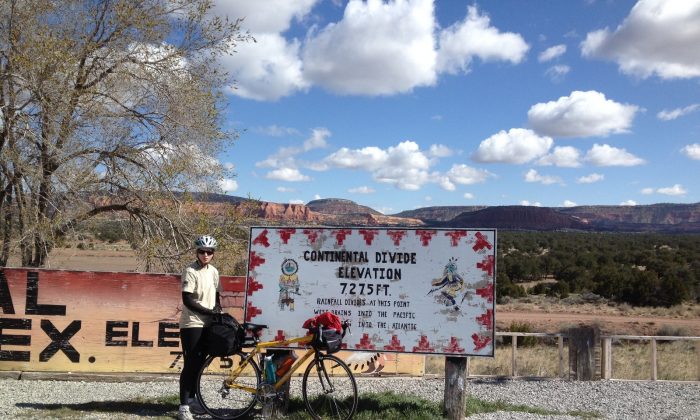 An Ohio woman born without a left hand will pedal 12 times around Hawaiian island Oahu for a good cause—she is raising money to sponsor 12 service dogs for veterans.
Patricia Waiwood, 27, from Cleveland, was denied enlistment to the Marine Corps and all other branches because she was born without a hand, but that doesn't stop her from helping.
She says that while she can't serve in Iraq or Afghanistan "at least when they come home I can support them."
Which is exactly what she is doing.
Waiwood will cycle 1,200 miles around the island in honor of the 12 Marines who were killed in a January helicopter crash off Oahu's North Shore. Her mission is to raise $180,000 for K9 for Warriors, to sponsor 12 service canines for veterans with post-traumatic stress disorder (PTSD) and/or traumatic brain injuries.
Waiwood has raised money for veterans in the past. In 2014 she cycled across the country for the Wounded Warrior Project, and last year she made another trip from Ohio to Florida.
This year, Waiwood hopes to finish her training and raise the money by October.
"The unfortunate, staggering fact is, everyday 22 veterans returning from combat take their own lives," said Rory Diamond, executive director, at K9s For Warriors in a statement.
"The K9s for Warriors training program not only provides our soldiers with a live-saving gift, but it's also an opportunity for peer to peer support with other servicemen and women who suffer from similar issues," added Diamond.
Attached is a link on how to afford a service dog.

To help those who are unable to afford the cost of a service animal, we created a guide that breaks down the total costs of obtaining a service dog, and provide a list of several alternative methods for financing these costs.

We also included a list of accredited organizations who provide complete or partial financial assistance for several different causes and individuals in need.

https://www.bankrate.com/personal-finance/how-to-afford-a-service-dog/

Questions, please contact:
David Lafferty at Email: david.lafferty@bankrate.com
Bankrate, Inc.
1675 Broadway 22nd Floor | New York, NY 10019